The Story of Santa's Hotels
We all love Christmas! That's why we sometimes wish Christmas would be every day of the year. But did you know that there are places where Christmas is every day of the year: in summer, autumn, winter and spring? These places are Santa's Hotels, with a special spirit of Christmas in each one. And the hotels are run by Santa's own elves!
But how did these Elves' holiday places come to be?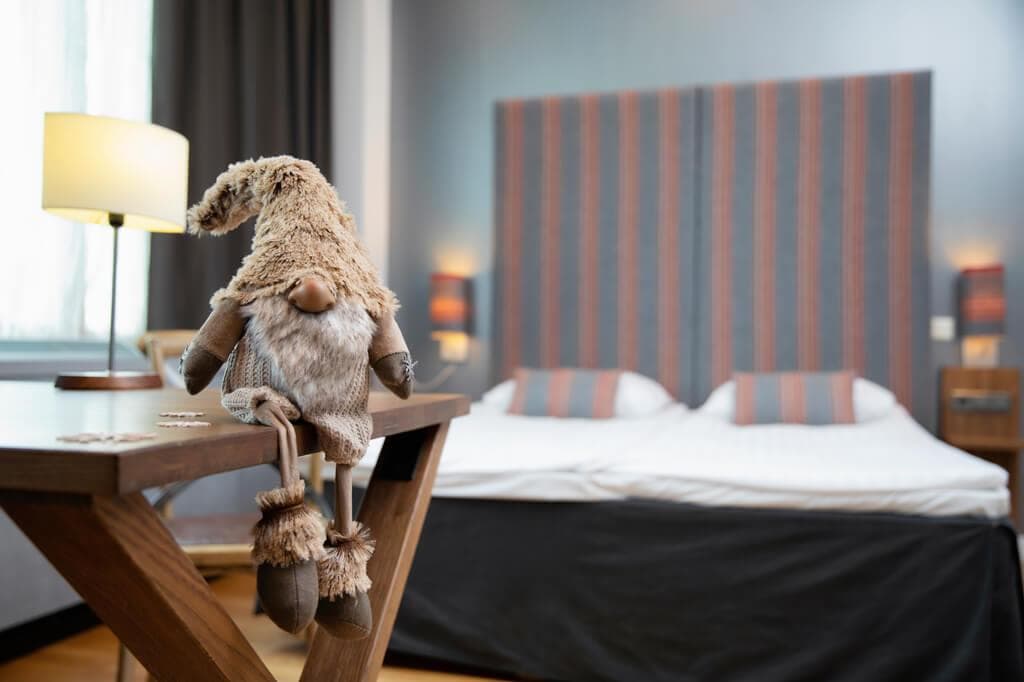 While traveling all around the world, it occurred to Santa Claus that people were longing back to nature, away from the busy everyday life and to spend more time with their friends and family. This made Santa Claus think of all his helpers, Santa's Elves. Elves didn't have a care in the world! They were always playful, happy and helpful; when busy working and when having a day off.
It was then, when Santa Claus had an idea! He should create a holiday place where People could be like Elves. A hotel where people can take it easy, play and relax, and learn how to enjoy their time like an Elf.
Santa Claus decided to send his most creative and adventurous Elf, Seppo, to scout for the perfect spot for the holiday retreat. Seppo the Elf was excited of this great mission! With a hat full of ideas and plans, Seppo set on his way skiing over the fells and through the valleys. As a clever elf that he was, Seppo though that the eight seasons, purest air and pristine wilderness would be the reasons why People would travel to Santa's Hotel, and return year after year. That is how magical the Lappish nature is!
Seppo the Elf skied and skied, for days on end. Once in a while, he stopped to look for an ideal spot. But nothing felt exactly right! After weeks of searching, with great disappointment, Seppo decided to turn back towards Korvatunturi, the home fell of Santa Claus and his Elves.
Not far from his home, Seppo started to feel very sleepy. On that clear, freezing night, between two mighty fells, Seppo decided to set up camp, light a fire and sleep a bit before continuing in the morning. That is when he saw the most spectacular Northern Lights he had ever seen! The Auroras were dancing right above his head! While admiring the breathtaking phenomenon of the Arctic sky, he heard the Auroras whispering. Seppo raised his elf hat and listened carefully. Here! This is the place!   
And so, Santa Claus established the first hotel in Saariselkä, a perfect spot between the fells of Kiilopää and Kaunispää. And on a clear day, from the top of the fell, you can see all the way to Korvatunturi.
The years went by and People enjoyed quality time in the Elves' hotel. Every day of the year, People and Elves enjoyed the sounds, scents and tastes of Christmas. They had plenty of chocolate and hot drinks; walked around in wool socks; danced and sang; watched movies and read books cuddle up on the couch; built snowmen; decorated Christmas trees; ate gingerbread cookies and an abundance of delicious meals. They skied and played in the snow. They set up pranks and adventures. They played board games by the fire. And in the evenings, they sat under the vast northern sky and watched the Aurora Borealis and the sun that did not set at all. People and Elves truly enjoyed the spirit of Christmas every day of the year!
Santa Claus smiled and nodded his head approvingly every time Seppo the Elf came to give his extensive report from Saariselkä. Nothing makes Elves happier than to bring spirit of Christmas to People! That is what Elves want to do most, aside from organizing the Christmas of the whole World.
That is why Santa Claus decided to send Seppo the Elf to every corner of the North; to set up hotels for People of all ages and all sorts, so that everyone would have a special holiday place of their own, where they could escape the busy life and relax in the midst of Lappish nature. And today, Santa's Elves are running hotels and holiday places also in Luosto, Rovaniemi, Kalajoki, Kilpisjärvi and Levi.
This is how Santa's Hotels came to be!
Santa's Hotels all have a special spirit of Christmas. That's because the hotels are still kept by Santa's own Elves. Nothing is so important to us than Christmas, and even that is not so important than you, People, the guests in our hotels.
We have the Spirit of Christmas 365 days a year!