How to get to Lapland? Getting to Finnish Lapland is as easy as ever this year. Direct flights to Lapland airports and connecting flights from Helsinki operate daily. Trains and busses offer you options for more environment friendly travel without flying.
Travel by ground
Trains from Helsinki to Rovaniemi depart multiple times a day. The Northernmost train station can be found in Kemijärvi, but for the easiest connections around Lapland Rovaniemi offers you a great layover place. In Rovaniemi you can stay at Santa's Hotel Santa Claus, Santa's Hostel Rudolf or Santa's Igloos Arctic Circle.
Domestic busses take you to Lapland from all over Finland. You can also reach Finnish Lapland by bus from Norway and Sweden. You can reach all of our destinations by bus.
See different busses from here:
For experienced drivers a rental car can also be an option. If you feel wary of driving in dark, snowy and icy conditions, we recommend weighing your options carefully.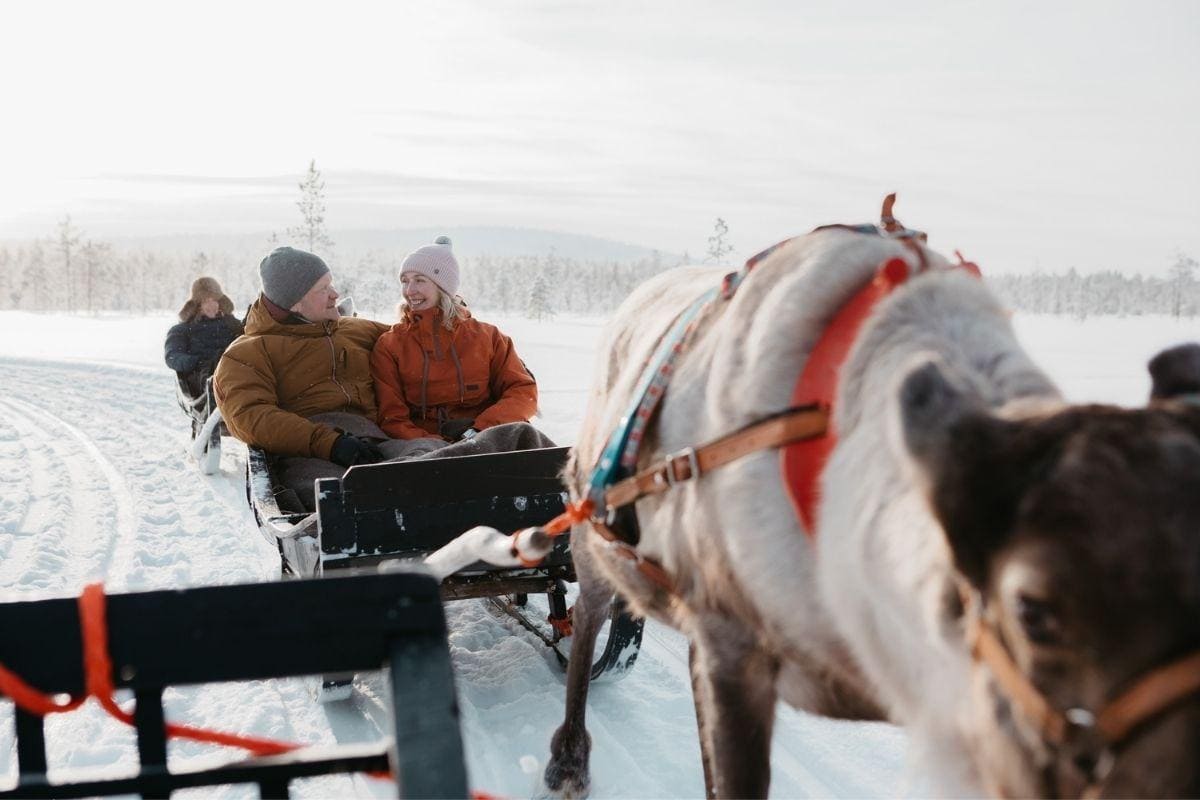 Flying to Lapland
Multiple airlines have added direct flights to Rovaniemi from international airports for season 2022-23. From Rovaniemi Airport you can catch a bus or a taxi either to Santa's Village or Rovaniemi downtown. There's also Ski Bus shuttle service departing from the airport according to flight timetables heading to Pyhä-Luosto National Park area where you can find one of our destinations Santa's Hotel Aurora and Igloos.
Ryanair will fly directly to Rovaniemi from London Stansted, Bryssel and Dublin from November 2022 to March 2023.
EasyJet will fly directly to Rovaniemi from London Gatwick from November 2022 to March 2023. EasyJet will also operate flights to Rovaniemi from Bristol and Manchester from November 2022 to the beginning of January 2023. From the beginning of December until the end of January Easy Jet is flying to Rovaniemi from Milan Malpensa on Tuesdays and Saturdays.
Air France will fly directly Rovaniemi from Paris from end of November 2022 to March 2023 on Wednesdays and Sundays.
Eurowings will fly directly to Rovaniemi from Dusseldorf and Hamburg from December 2022 to March 2023.
Turskish Airlines will fly directly to Rovaniemi from Istanbul from midway of December 2022 to the beginning of February 2023.
KLM Royal Dutch Airlines will fly directly from Amsterdam to Rovaniemi from the beginning of December 2022 to March 2023 every Saturday.
Finnair operates daily flights from Helsinki-Vantaa Airport to Rovaniemi Airport all through the year. With Finnair you can also reach Ivalo Airport and Kittilä Airport from Helsinki.
Norwegian operates flights from Helsinki to Rovaniemi on Mondays, Fridays and Sundays.
From Ivalo Airport you can catch a bus to Saariselkä, known for it's fells and skiing opportunities, where you can stay at Santa's Hotel Tunturi. The ride only takes about 20 minutes.
Another ski resort and fell area Levi is located only about 15 minute drive from Kittilä Airport. From Levi you can find our luxurious Santa's Villa Laavu designed for groups and families. Levi is located about 2 hour drive away from Rovaniemi and busses operate between the destinations.
To reach northwest Lapland, its wilderness areas and mountains you can fly to Tromso, Norway and come down to Kilpisjärvi village with a bus. In Kilpisjärvi you can stay in our full service apartments in Santa's Chalets Rakka.
We are opening a new wooden built high-end desing hotel Santa's Hotel Rakka in February 2023.
This article will be updated as airlines and other operators publish more connections.
Santa's Hotels' special offers
You now know how to get to Lapland so don't forget to check out our offers for the season!