Join the biggest motorcycle event of Northern Finland in August! We warmly welcome you to Santa's Hotel Tunturi Saariselkä and the 24th Jänkhällä Jytisee-event. 
Artists, performers, trips to the vicinity of Saariselkä, parade ride, new and old friends and one of a kind Jytinä atmosphere will take you through the amazing weekend. 
---
Registration for 2023 Jänkhällä Jytisee starts Friday 3.2. at 12pm
---
Experience the beauty of Northern Finland on the road!
Santa's Hotels accommodates you in Lapland and Kalajoki. Enjoy the sandy beaches of Arctic seaside, hear the silence of National Parks or have a city holiday at the Arctic Circle!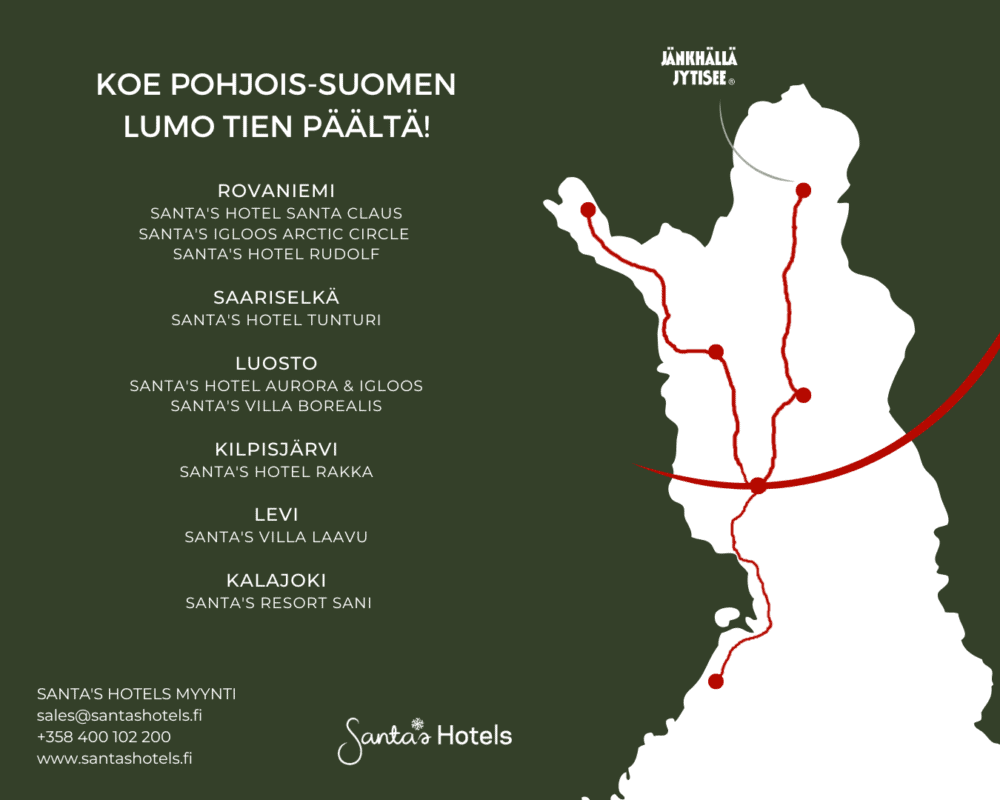 ---
COMING: Jänkhällä Jytisee-playlist
Get ready for the gigs and get to know our performers' catalogs! We'll be updating the list as we publish the artists!
---
Jänkhällä Jytisee gathered together 1828 registered visitors in 2022!
---
To be an exhibitor, performer or partner?
We are looking for exhibitors and partners for the 2023 event! The fairground is free of charge and Santa's Hotel Tunturi accommodates exhibitors at a special price.
If you are interested, please contact: saariselka(at)santashotels.fi
Are you a content creator or an influencer? Contact marketing(at)santashotels.fi
Press requests to Santa's Hotel Tunturi hotel manager anne.harju(at)santashotels.fi
---
Responsible organizers of the 2023 event and contact information:
Event is organized in collaboration with Rumakuru MC and Santa's Hotel Tunturi.

SANTA'S HOTEL TUNTURI
Saariselän Tunturihotellit Oy
Lutontie 16
99830 Saariselkä

Puh +358 400 102 190
Email saariselka@santashotels.fi

Y-tunnus: 0942022-0
Event's geographical coordinates:
68.419434,27.426772
+68° 25′ 9.96″, +27° 25′ 36.38″