Conquering Halti (1324 m)
Come and see what the world looks like at the highest point in Finland. The border cairn between Norway and Finland at the slopes of the fell Halti is a unique attraction. The snowmobiling track from Kilpisjärvi to Halti runs through the wilderness with all the highest peaks in Finland. At the border cairn you can write your name in the Halti guest book. Available after mid February.
Rate: sleigh transport 95 € per person
1 person / 1 snowmobile 258 € per person
2 person / 1 snowmobile 176 € per person
---
The border of three Nordic countries (2-3h)
This is the all-time fastest and easiest Scandinavian tour: it takes less than a minute to visit all three countries. The yellow border cairn of Finland, Sweden and Norway is located about 15 kilometres from Kilpisjärvi in Koltavuoma. This is called the most peaceful border in the world. The snowmobile trail runs from Kilpisjärvi to Koltavuoma mostly on the frozen lake. If you want to try driving a snowmobile, this excursion is ideal for beginners.
Rate: sleigh transport 64 € per person
1 person / 1 snowmobile 169 € per person
2 person / 1 snowmobile 115 € per person
---
Tour of Kilpisjärvi (3-4h)
If you do not have much experience of snowmobiling but you would like to drive a little bit more, this is a good opportunity to practice snowmobiling while sightseeing. Before the tour starts a guide will show you how to operate a snowmobile and give good tips for being a better driver. The trip will take you around the mighty fell Saana and introduce the nature around Kilpisjärvi. The length of the tour is around 40-50 km.
Included guiding, safety gear, thermal outfit, coffee / tea and pastry.
Rate: 1 person / 1 snowmobile 215 € per person
2 person / 1 snowmobile 139 € per person
---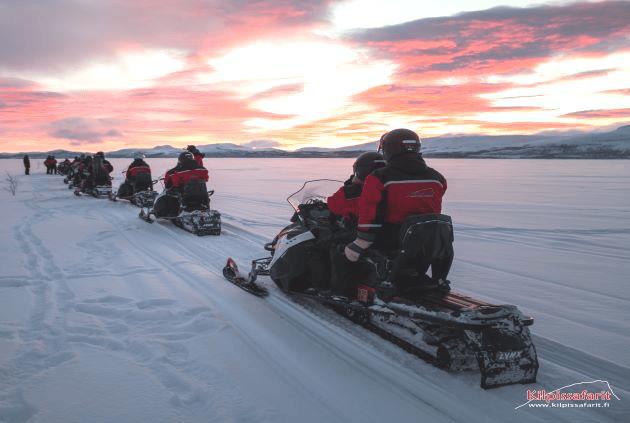 Snowmobiling 101 (1,5h)
A great opportunity for beginners! Our elementary course in snowmobiling includes safety and driving instruction. After a tutorial the participants will test their new snowmobile driving skills on a guided snowmobile ride of 5-10 kilometres on easy trails. Coffee break not included.
Rate: 1 person / 1 snowmobile 149 € per person
2 person / 1 snowmobile 95 € per person (total 190 €)
---
Observing reindeer herding (2h)
We all know what Rudolph the Red-Nosed Reindeer does during Christmas, but most people do not know how he and his colleagues live the rest of winter. In winter reindeer graze over a vast fell area, so the exact location of the herd is hard to know in advance. This tour takes you to a local reindeer farm. The tour offers an opportunity to observe reindeer herding and to learn about the Sámi culture. Check the availability.
Rate: minibus 75 € per person
---
Visiting the Arctic Ocean by minibus (3-4h)
Kilpisjärvi is only fifty kilometres from the Arctic Ocean. On the way to the village Skibotn we descend about half a kilometre from tundra to the evergreen sea level of Storfjord surrounded by the snow covered Lyngen Alps and glaciers. By the fjord we stop to enjoy the arctic breezes and local delicacies around a campfire. For stone and shellfish gatherers the fjord shore is a paradise. Do not forget a towel and swimwear for the opportunity to take a chilly dip into the Arctic Ocean.
Rate: minibus 84 € per person
---
Snow fun with fatbikes (2-3h)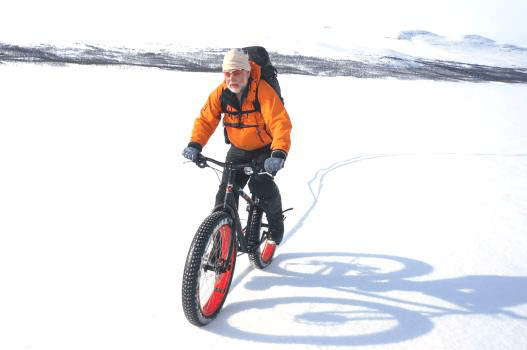 Would you like to learn a new way to tame the snowfields of Kilpisjärvi? Fatbike is a modified bicycle suited especially for snowy conditions. As the name implies, the fatter-than-usual tires are easy to manoeuvre on snow. The bike is suitable for anyone who can ride a normal bicycle. Join our guided fatbike tours on the best trails of the Kilpisjärvi area. The routes vary from easy to more challenging according to the customer's wishes. Warm juice and snack offered.
Rate: bicycling 74 € per person
---
Snowshoeing in the vicinity of Saana (2-3h)
Skiing comes naturally to Finns and kids usually get their first pair of skis as toddlers. In the recent years Finns have found a new trendy way to exercise on snow: snowshoes. For a beginner snowshoeing is much easier than skiing. Going uphill and downhill is surprisingly easy and convenient as they float perfectly even on deep snow. Kilpissafarit trusts on review winning TSL-brand snowshoes. Warm juice and snack offered.
Rate:
snowshoeing 78 € per person, 4h
snowshoeing 58 € per person, 2h
---
A home visit in Kilpisjärvi (2 h)
Do you wish to sneak a peak in a home in Kilpisjärvi? What does a sauna look like? How to keep your house warm? What's a Finnish kitchen like? How to survive a two month polar night and an almost three month polar day? During the visit you'll get the answers to your questions and get a chance to discuss the life in the coldest village in Finland. Local food samples available. There are pets in the house. Check availability.
Rate: 54 € per person
---
Ice fishing on a fell lake (3h)
Let's go ice fishing! The village of Kilpisjärvi is surrounded by small lakes, rivers and ponds. The waters are clear, pure and full of fish: arctic char, trout and whitefish to name a few. The chosen lake is located around eight kilometres from Kilpisjärvi.
Rate: sleigh transport 64 € per person
1 person / 1 snowmobile 156 € per person
2 person / 1 snowmobile 106 € per person
---
Fisherman's winter day (5h)
Net fishing is one of the oldest and most efficient ways to catch fish. Prehistoric ancestors mastered the net fishing technique ten thousand years ago and present day Finns still use similar ways to catch fish. Under-ice net fishing requires special skills. We start fishing with traditional hook and line, and then we check under ice nets for fish. If we are successful, we will prepare the fish and have a taste!
Rate: Sleigh transport 95 € per person
1 person / 1 snowmobile 176 € per person
2 person / 1 snowmobile 136 € per person
---
The northern lights and the magical night sky (3h)
If in search for Aurora Borealis, Kilpisjärvi is a must destination. Statistically, the Kilpisjärvi area has clear night skies and northern lights more often than any other place in Finland. And in addition you'll be able to admire the night skies in complete silence and without any manmade light pollution. We recommend snowmobiling during the safari.
Rate: sleigh transport 79 € per person
1 person / 1 snowmobile 155 € per person
2 person / 1 snowmobile 110 € per person
---
Chasing the northern lights (4h)
For observing the northern lights Kilpisjärvi is the best location in Finland with its daily 70 percentage chance to see the northern lights if the sky is clear. Geographically the location of Kilpisjärvi is close to perfect since the Skandies usually tear apart the clouds. We will start the tour by travelling by car either north or south depending on the weather forecast. During the tour we will stop on the best locations for photographing and enjoy some snacks. The price includes photographs by the guide.
Rate: minibus 79 € / person
---
Snowshoe adventure at night (2-3h)
Snowshoeing is a lot of fun, and night makes it an adventure. To make it safe we use head lamps while snowshoeing, but turn off the lights when we stop so we can see the details of the landscape and the wonders of the night sky. Snowshoeing is a great workout even though it is easier than skiing. Going uphill and downhill is safe even for beginners. Warm juice and snacks offered.
Rate: snowshoeing 69 € / person
---
Explore the winter wonderland with sliding snowshoes
Skiing and snowshoeing are traditional winter activities in Finland. However, sliding snowshoes are one of the best new inventions to explore the beautiful snowy surroundings of fell Saana. Sliding snowshoes, also known as skin-based skis, combine the best features of cross-country skis and snowshoes. With a good grip uphill and mellow speed descending downhill, sliding snowshoes are beginner friendly and highly recommended by Kilpissafarit. Included guiding, a pair of sliding snowshoes, adjustable poles, thermal outfit, warm juice and pastry.
Duration 3 h Level 3/5
Rate: 79 € per person
Rental without guide: 35 €/ 6 h
Price include adjustable poles and pair of sliding snowshoes
Terms: rental period available 10:00 – 18:00
---
Private Aurora bubble (3h)
The arctic night sky is something that you cannot imagine until you experience it yourself. The aurora bubble is an innovative way to observe the wonders of the night sky. The bubble is built with see-through polycarbonate offering a combination of an observatory and a sleigh. It can be pulled by a snowmobile to the very best northern lights observation sites in Finland. The bubble is equipped with led lights, an adjustable heater, beanbags and reindeer skins. Length of the tour is approximately 15 kilometres. The price includes photographs by the guide.
Rate: bubble 340 € 1-2 person
---
Spend a night in a wilderness camp (13h)
The village Kilpisjärvi is surrounded by uninhabited wilderness filled with fells. This is your chance to sense the pure arctic nature and silence. When your eyes adapt to the darkness you will be able to see how millions of stars and the northern lights light up the landscape. Basic camping know-how is needed. Guide will transport you to the wilderness camp and show how everything works. You will spend an unforgettable night in a cozy environment while alone. Next morning you will be picked up from the camp. Late night snack with hot drinks and breakfast basket included. The price includes photographs by the guide.
Rate: sleigh transport 650 € 1-2 person
---
Do not hesitate to contact us for a possibility of arranging a tailor made program for you.
Rates include complete thermal clothing during programs, coffee/tea and snack, English and Finnish speaking guide services, VAT and insurance. Snowmobiles are insured, liability for damages max 1000 €/accident.
Tours are carried out during the snow-season, approximately from 1st of December until 30th of April. All tours weather permitting. Minimum 2 participants, if less ask for an offer.
---
Kilpissafarit, established in 1995, is a Kilpisjärvi-based outdoor activity company.
Bookings and further information:
info@kilpissafarit.fi
+358 40 5455 123 / Jussi