Let's go catch dinner!
Fishing Trip on Lake Kilpisjärvi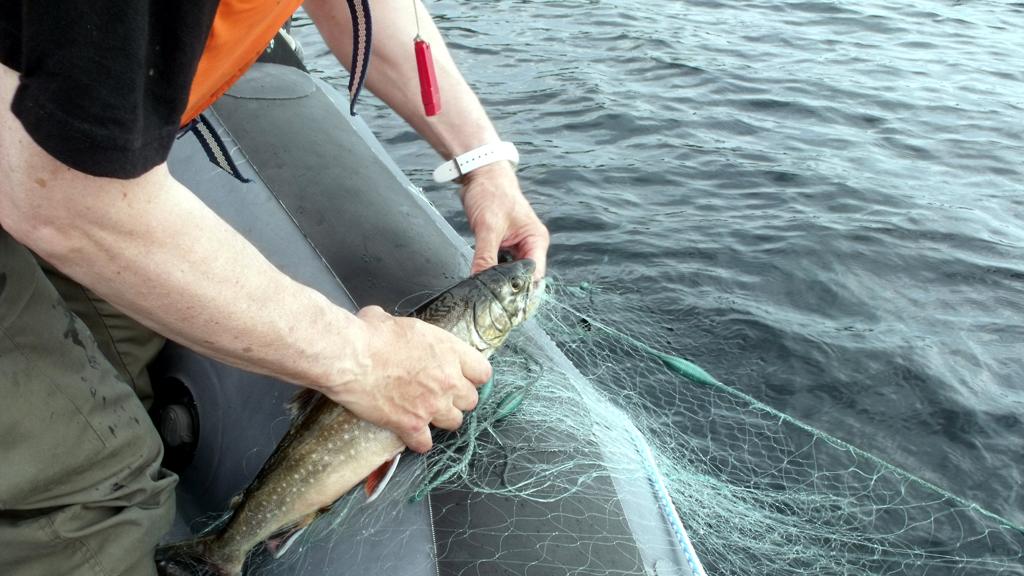 Lake Kilpisjärvi, the one and only alpine lake of its kind in all Finland, is surrounded by arctic fells of the three bordering countries, Finland, Sweden and Norway. With its crystal clear waters and abundance in fish invites you to try your luck.The excursion starts on the village shore with a boat ride. Fishing with nets is the exclusive right of the residents, and you can now experience this specialty with your local guide. The catch may be the treasured fish of the northern waters 'arctic char', it may be whitefish, it may be trout. You will also try your luck with a hook and line, and have plenty of opportunity to admire the beautiful scenery. A break on the shore crowns the trip, with an outdoor picnic around open fire.
Duration: 3 hours
Price: 70 eur / person
Minimum: 2 persons
Organizer: Safaris – The Lapland Connection
Price includes: guided fishing trip with boat ride and necessary equipment, picnic by open fire, floating device and rain clothing.
Book a trip: laplandconnection@gmail.com
---
Rafting and Fishing on River Könkämäeno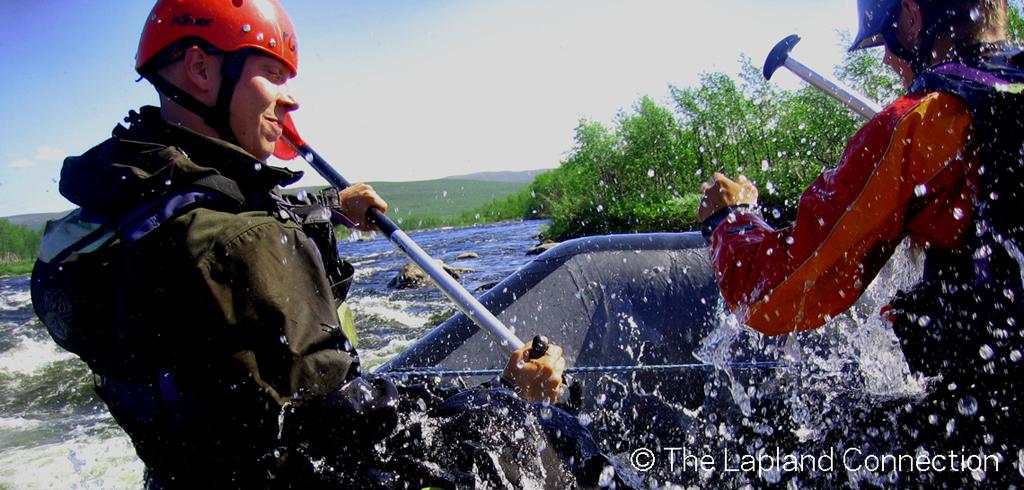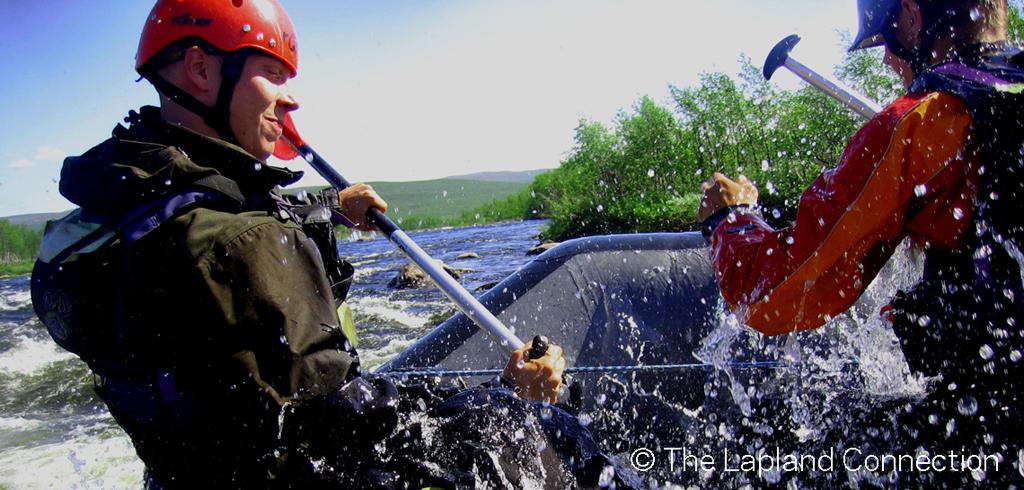 Rafting and Fishing on Könkämäeno, between Finland and Sweden The River Könkämäeno, which starts in Lake Kilpisjärvi and forms the border between Finland & Sweden, is on the wish list of many seasoned fishermen. This trip is equally fun for those who are beginners and might experience their first ever catch of fish. During this rubber boat excursion you'll admire the scenery of two countries: Finland on the left shore, Sweden on the right shore. You'll experience the thrill of the rapids, most of them rather gentle and therefore suitable for even first-timers.
The trip starts in Saarikoski, which is located 30 km south of Kilpisjärvi. The rafting route is ca. 10 km long, zigzagging between Finland and Sweden, passing several easy and a few a bit more difficult rapids en route. You'll be comfortably seated in a rubber raft, paddling together with your licenced skipper guide. Grayling is the main catch you can expect if you participate in the fishing, which is by no means mandatory, as this trip is suitable for anyone with a love for the nature. A break will be held on the shore, with a picnic by open fire. If you plan to fish, you should bring your own equipment and obtain a fishing licence, which is not included in the cost.
Duration: 4 hours, Cost: € 220 / raft (1 – 4 persons) + € 20 / person
Avid fishermen might want to make this a full-day trip in which case the rafting distance will be doubled.
Duration: 8 hours, Cost: € 340 / raft (1 – 4 persons) + € 20 / person
Price includes: guided fishing and rafting trip, picnic by open campfire, floating device and rain clothing. Please note that the car transfer from / to Kilpisjärvi is not included in the price. Please bring your own fishing equipment and obtain a valid fishing licence.
For inquiries and bookings, please contact:
laplandconnection@gmail.com
---
Hike with Husky dogs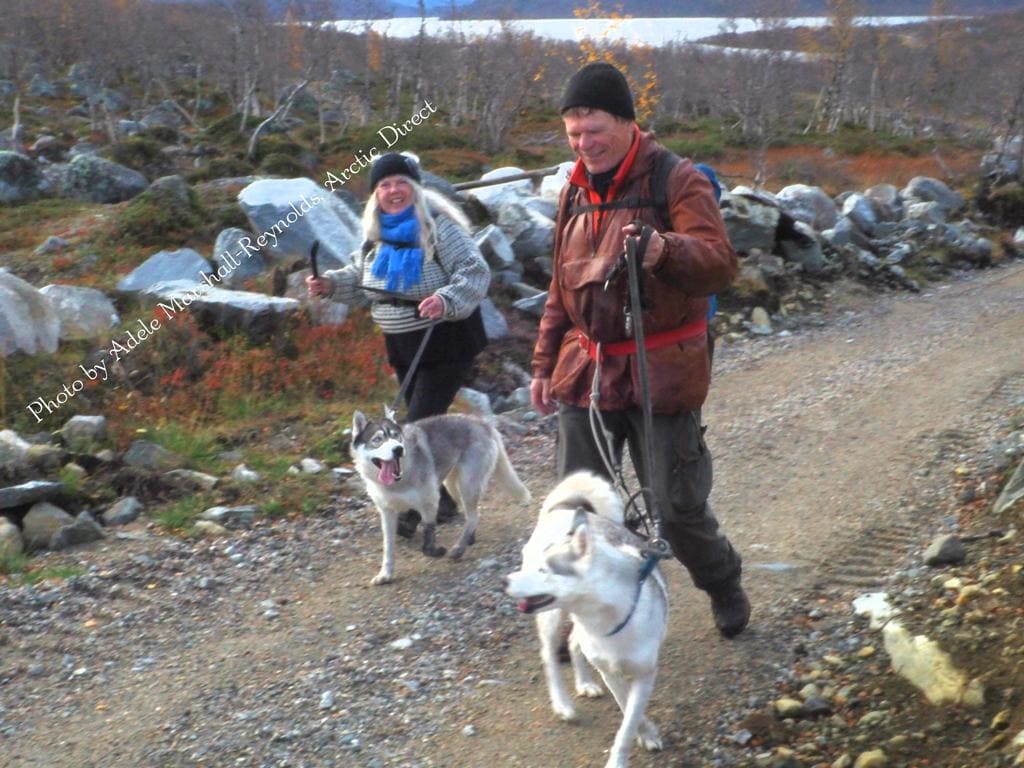 The dog sledding season ends in May when the snow season is over, but our Siberian huskies love to meet people, get out and explore all year round. In summer and fall you can join us for an easy scenic hike in the company of our friendly huskies.
When walking with a husky you'll be equipped with a belt to which the dog is attached by a leash. Kindly bear in mind that Siberians are highly energetic and inquisitive dogs and walking with them can be energy consuming. The length of the trek is approximately 3,5 km and midway a break is made on the shore of Lake Tsahkal to enjoy a beverage. Our huskies love attention and meeting new people. This is more than a tour – it's making friends!
Duration: 1,5 hours
Price: € 35 / person, minimum 2 persons
Organizer: Safaris – The Lapland Connection
Price includes guiding, one Siberian husky to be shared by two persons, hot or cold beverage 
Conquering Mt. Halti – the Highest Summit of Finland – in One Day
Is the conquest of Mt. Halti on your bucket list, but you don't wish to spend several days hiking across the wilderness? Book a local guide to accompany you and conquer Mt. Halti during the course of a single day. The one-day trip starts with a car transfer to Guolasjärvi which is located in Norway, 130 km from Kilpisjärvi. The ride takes you through the magnificent landscapes of Norwegian fjords and across rugged treeless wilderness. The hike itself is 8 km long each way and quite strenuous, involving a steady climb on unmarked rocky terrain. A good physical condition, previous hiking experience and proper footwear and clothing are musts! A hike to conquer Mt. Halti can normally be organized from the beginning of July until the beginning of September, yet the season may be shorter due to unpredictable weather conditions.
---
For inquiries and bookings, please contact:
laplandconnection@gmail.com